Welcome to Number 47 Grassington Guest House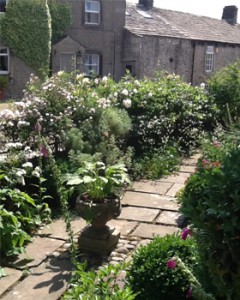 Number 47 is a beautiful 17th Century house, situated in the Main Street of Grassington, a picturesque Yorkshire Dales village with cobbled streets, small shops, restaurants and bars. It offers a double room with a super king bed, a twin beds option is also available, private shower & bathroom, and can also accommodate a third person in a small private bedroom on the same floor. Tea and coffee making facilities, a TV, hair dryer and fluffy bathrobes are all available for your use.
Number 47 is tastefully furnished and has been featured in magazines such as House Beautiful and 25 Beautiful Homes. It is one of the longest established guest houses in the area, having been owned by the same family for over thirty years. Originally two miners cottages, the inglenook fireplace also dates back to the 17th Century. At the rear is a beautiful enclosed garden which can be seen from the breakfast table through the French doors. With a central stone bird table it attracts many feathered friends.
Tariff
£85 per room per night includes breakfast, tea and coffee making facilities, television, bathrobes, WiFi and storage for bicycles.
Please contact us for single occupancy availability.
Parking is available for one car.
Enquiries
For reservations and any other enquiries please contact Sarah Whitfield using the details below.
01756 752069
07734 110 521
Grassington & The Yorkshire Dales
Grassington is strictly speaking a town, but for locals it is a village in the Hub of this part of Upper Wharfedale, home to one of the top forty rugby union clubs in the country. Through it runs the River Wharfe which attracts anglers, canoeists, sightseers, birdwatchers and families. During the summer months there are many families picnicking on the long river banks with children, adults and dogs enjoying the pools and banks of the river.
It is around ten miles from the award winning market town of Skipton, a vibrant town with its own castle, historic churches and a market on four days of each week. Skipton also connects to the famous nearby Settle and Carlisle railway route.
Grassington is an ideal location for walkers and cyclists with many local routes from the leisurely to the more demanding, often ending in one of the many local hostelries!
Grassington is also on the route of the famous Dales Way walk, as well as the Coast to Coast cycle route between Morecambe and Blackpool.
Grassington is also close to the historic towns of Harrogate with its famous spas and gardens and the spa town of Ilkley, with its well-known moors and surrounding countryside, through which also runs the River Wharfe.
Grassington is around five miles from the Upper Dales attractions of places like Kettlewell and Starbotton linked by two lovely footpaths and is also not far from many more characteristic villages in the nearby Upper Dales like Hawes and Leyburn in Wensleydale.
Linton, just south of Grassington across the River Wharfe has historic almshouses, three stone bridges over its beck and a renowned pub, the Fountaine, which serves excellent and generous home-made food. It also has a delightful 12th century church, St Michaels and All Angels, often known as Linton Church, which sits by the loop of the river.
Click on "Directions to" in the map below to get directions to Number Forty Seven from Google Maps.